Contactați-ne
Telefon
România
04.07.2023
Digitalization of Assembly – Practical Workshop took place on June 28th at Bossard & KVT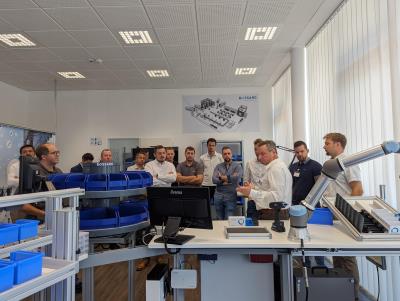 On June 28th, Bossard and KVT Austria joined forces with Mechatronik-Cluster and Fraunhofer Austria to host a highly successful event called the "Digitalization of Assembly: Practical Workshop." This workshop attracted a significant number of companies, all of whom provided overwhelmingly positive feedback.
The highlight of the event was an enlightening speech by Mr. Gerhard Reisinger from Fraunhofer Austria, who delved into the topic of "Increasing Productivity through Assisted Systems." Attendees also had the opportunity to participate in a hands-on practical workshop held at the Smart Factory Assembly stations located in our showroom.
The workshop offered attendees a firsthand experience of the innovative Smart Factory Assembly, immersing them in digitized and assisted production processes. This immersive encounter provided valuable insights and allowed participants to witness the potential benefits of integrating advanced technologies into their assembly operations.
Smart Factory Assembly, a scalable digitized assembly solution, enhances process reliability and productivity while reducing overall manufacturing costs. The system incorporates digital and interactive work instructions, making variant management and the onboarding process for new workers significantly easier. Additionally, connected smart tools and devices ensure consistent assembly quality and prevent errors, while enabling the traceability of quality data for continuous process improvement.
If you're interested in experiencing the digitized assembly process firsthand and gaining insights into how it could benefit your production, we invite you to visit our Smart Factory Assembly showroom at the Experience Center in Linz. Alternatively, you can book an online demo to explore the possibilities.
The implementation of Smart Factory Assembly begins with digital work instructions. With ELAM Software, production managers can easily design workflows and digitally roll out work instructions across the assembly line.
To try out the digitization of your workflow, we offer 30 days of free access to ELAM software. Take advantage of this opportunity to streamline your operations and experience the benefits of a digitized assembly process firsthand.