Contactați-ne
Telefon
România
11.05.2023
Smart Factory Assembly paves the way for the assembly area of the future for the WILD Group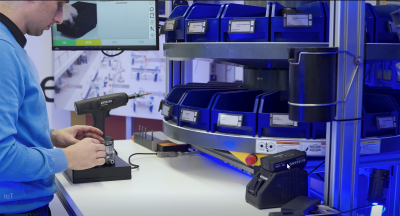 WILD is a technology partner for the production and development of opto-mechatronic components and complete high-tech devices in the medical technology, optical technologies, and industrial technology sectors. The list of fascinating products is long: Whether new laboratory analysis devices, surgical equipment, innovative lighting systems, prosthetics, therapy devices, or laser technologies - WILD is in demand wherever precision and reliability are important and innovation takes place. Manufacture and development are exclusively on customer order.

Managing director DI Dr. Christian Rabitsch explains the optimization potential opened up by the introduction of Smart Factory Assembly.

The impressive range of technologies - a know-how combination of technical optics, electronics & application software, plastics technology as well as mechatronics and precision engineering - makes WILD a leading partner for large corporations, medium-sized companies, and start-ups in product development, industrialization, and series production. The WILD Group employs over 500 people at four locations in Carinthia, Vienna, and Trnava (SK).
Benefit from future technology today
The digital and networked assembly solution Smart Factory Assembly has been used at WILD for a year and a half in medical technology production.

But how is Smart Factory Assembly used at WILD? In medical technology in particular, which is subject to the highest safety standards and obligations to provide evidence, the requirements for traceability and documentation are particularly high.

Specifically, it is about the production of a swivel arm for a surgical microscope. Because this device is mounted directly above the patient in the operating room, there are rigorous safety regulations. With the help of Smart Factory Assembly, it can be verified at any time that all screw connections have been attached with the required torque. Overall, the end product impresses with maximum quality in design and processing.

For Mr. Rabitsch, the focus is on precisely adhering to predefined assembly processes. The requirements for technical documentation and traceability of all production steps through to the assignment of employees to specific tasks are particularly high in medical technology. Up until now, the corresponding proofs filled file folder after file folder. With Smart Factory Assembly, quality control takes place automatically in digital form at every work step, so that there is no need for paper documentation.

«Our products are based on high complexity and low volume. We were looking for a solution that would guarantee process reliability for small quantities in combination with reasonable cost-effectiveness, and we ended up with KVT-Fastening," says Rabitsch.


Smart Factory Assembly is expandable and individually adaptable


Revision adjustments were made and release processes individually adapted for the fast-growing Carinthian technology company. WILD is obliged to document even the smallest change in a workflow. Smart Factory Assembly automatically tracks every change.

The vision of the Völkermarkt-based high-tech specialist is to link worker guidance with the training platform in the long term and thus ensure "in real time" that all employees have the necessary qualifications for specific work steps. In this way, the assembly workplace of the future is being developed together and step by step.

Rabitsch is pleased with the course of the business relationship with KVT-Fastening so far.

KVT-Fastening is continuously working on optimizing the smart factory assembly. The customers are the biggest drivers of innovation. With their feedback, Smart Factory Assembly can be further developed in such a way that it offers the highest possible optimization potential and customers around the globe remain competitive in highly competitive markets.
.

Contact us - we develop with the help of Smart Factory Assembly for your production 4.0. a customized solution!

More about Smart Factory Assembly