Contactați-ne
Telefon
România
15.12.2022
Verifying the water tightness of PEM fasteners with vacuum leak testing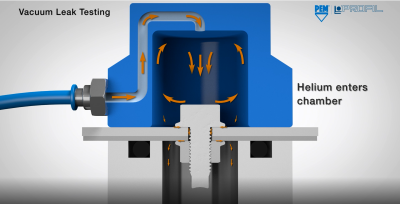 Water tightness in fastening is crucial and essential in many cases. The requirement happens from the application in water such as pools, water sports equipment like e-Foil, and industrial products such as heater boilers, to the latest hot application in the electric vehicle industry such as EV batteries.

Water tightness has become one of the significant performance characteristics for customers. Although there are international standards for the water tightness test of the fastening joints, many tests are hard to be integrated into the production process and lack consistency in accurate and repeatable results.

One of our customers in the manufacturing of the heater boilers had to achieve the water tightness of PEM fasteners used in their products, which is a crucial and essential performance characteristic for the fastening of the heater boilers. To overcome the testing challenges, PennEngineering collaborates with the PROFIL® Europe team, which is also a PennEngineering company, to design and implement new leak testing technology.

The test is performed quickly and allows precise and statistical analysis. And more importantly, the test can be easily integrated into serial production and existing quality management systems.

The vacuum leak testing

The test is performed in the vacuum leak testing method, which utilizes helium as test gas to verify water tightness for PROFIL® Mechanically Attached Fasteners (MAF). The method can measure even the smallest leak rates up to 10-9 mbar∙l/s and can be correlated to an IP rating – IP67 is a common requirement for this kind of application.

>> Video: how vacuum leak testing works

The testing using helium as test gas can verify a leak-proof fastening joint used in different panel thicknesses and a wide range of materials including aluminum and steel. Compared to conventional water tightness tests, vacuum leak testing offers greater flexibility to the size and dimensions of the tested object.

KVT-Fastening: authorized distributor for PEM since 1985

KVT-Fastening has been an authorized distributor for PEM since 1985. We offer all branded PEM fasteners as well as Haeger and PEMSERTER installation equipment and related services. Our experts are happy to share their know-how in self-clinching technology for your application and assist you for the services you require.
Subscribe to KVT Newsletter now and stay updated with our latest product and service highlights!