Contactați-ne
Telefon
România
+4037 138 11 55 | Mobil: +40 724 511 400
Formular de contact
Ne face plăcere să răspundem întrebărilor dumneavoastră.
> Contact
23.07.2021
When blind rivets are the best solution for joining plastic and metal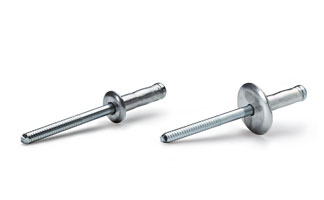 Practical example: automotive supplier increases safety and lower costs.
More than just an alternative. After blind rivets were used in fastening technology for a long time, especially for steel/steel or aluminum/aluminum, according to Kay Brenning, "the rivet has huge potential also in plastic applications". The business development manager and riveting technology expert at KVT-Fastening/Bossard Germany emphasizes not only quality and saftey, but above all the economic efficiency "with which a riveting solution scores".
A reliable, permanent, and form-fitting connection of two or more materials, even of different types - "our comprehensive portfolio of blind rivets from well-known manufacturers serves a very wide range of applications", says Kay Brenning. Always in focus: The reduction of assembly costs compared to other connection solutions.
Blind rivets – a safe and inexpensive fastening solution for car seats

A current example from practice: A customer of KVT-Fastening/Bossard is one of the major automotive industry. He manufactures car seats and uses two different rivets in the seat structure. Because the rivets cannot be mixed up in production for safety reasons, the decision was made to use different colored fasteners, the use of which should be monitored by a camera. The problem with this: Not only are colored fasteners more expensive, the camera surveillance is also prone to failure and disproportionately complex.
Kay Brenning: "our solution showed that there is an easier way. With the Vgrip®-rivet from Stanley, we offered a fastener for all areas of application, which even seals oversized holes in the multi-terminal area. With our rivet, we can optimally connect the five existing rivet points with the largest possible closing head without damaging the plastic components."
The automotive supplier is treading the silver bullet with the Vgrip®-rivet. Security both in use ("controlled deformation and safe tightening of the workpiece ") as well as with a view to the overall process ("no more interchanging possible "), in addition, procurement, handling and storage costs are saved.
More informations on blind riveting technology from KVT-Fastening/Bossard: https://www.kvt-fastening.at/en/products/blind-rivet-technology/