Contactați-ne
Telefon
România
06.09.2022
Avoid supply chain bottleneck with PEM "Made in Europe"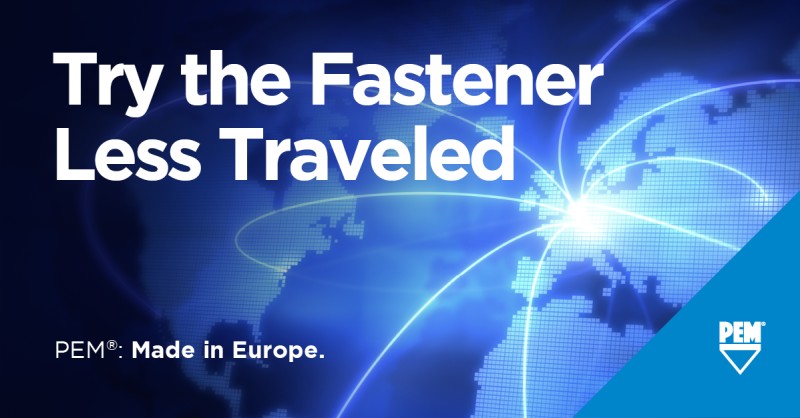 World leader in Self-clinching fastening
As the world leader in self-clinching fastening manufacturing, PEM has its location around the world and always strives to supply its customers locally and quickly.
In Europe, PEM has set its European headquarter in Galway, Ireland since 2001 in order to offer European customers the highest quality of products in the shortest time.
Made in Europe for Europe
>> Video Link
Spanning more than 20,000 square meters, its Galway facility is PEM®'s primary manufacturing site for our patented self-clinching fastener products. The site houses an extensive research and development center, as well as an application engineering team who supports customers with new and ongoing projects.
As one of the most extensive facilities, the Galway plant includes:
Enhanced EU service: With the Galway plant services shipping across Europe, products can be quickly delivered and adapted to customer requirements.
Complete supply chain service: Manufactured locally, the in-house production facility provides full turnkey services, including quality, research and development, testing, and manufacturing.
Capability all under one roof: The unique Galway office expands on the needs of the European market with fastener expertise, service, supply, and installation.
GDPR compliance: European customers can be assured that their data is regulated by GDPR compliance.
Technical Centre of Excellence: The Technical Centre of Excellence provides advice on fasteners, as well as advanced testing facilities and capabilities to help customers develop customized solutions.
PEMSERTER® In-Die and Haeger® self-clinching installation equipment is supported by local engineering and assembly teams.
Sustainable and reliable
For automotive, electronics, and many other customers, a reliable supply of self-clinching fasteners is crucial for supply chain management, especially during the recent pandemic years. For customers in Europe, sourcing in Europe not only saves delivery time, and avoids global supply chain bottleneck, but also reduces the carbon emissions from shipping the fasteners across the continents.
PEM's Galway plant is ensuring European customers with a timely and sustainable supply of patented fasteners.
KVT-Fastening: authorized distributor for PEM since 1985
KVT-Fastening has been an authorized distributor for PEM since 1985. We offer all branded PEM fasteners as well as Haeger and PEMSERTER installation equipment. Our experts are happy to share their know-how in self-clinching technology for your application.