Contactați-ne
Telefon
România
+4037 138 11 55 | Mobil: +40 724 511 400
Formular de contact
Ne face plăcere să răspundem întrebărilor dumneavoastră.
> Contact
19.10.2021
Bossard / KVT at 2021 MSV International Engineering Fair in Brno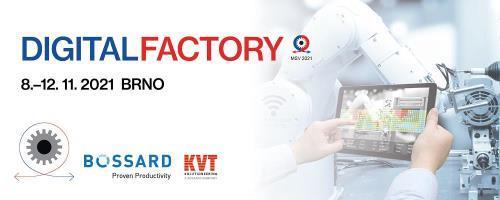 We sincerely invite you to the traditional, already 62nd International Engineering Fair in Brno, which is one of the most important industrial fairs in Central Europe. Every year, it is attended by more than 1,600 exhibitors and 80,000 visitors, both from the Czech Republic and abroad.

Industry 4.0 and the digital factory are the main focus of MSV this year. In the past years, the introduction of digital technologies into industrial practice has accelerated significantly. The latest services and products in the field of business digitization will be on display in the special Digital Factory 2.0 exhibition, of which we will also be a part and which will be presented at MSV for the second time. Prototypes of smart autonomous machines will be presented here regarding to connections related to the corporation environment. Visitors will also learn the principles of cooperation between employees and artificial intelligence and will be able to get acquainted with the possibilities of using the blockchain. There will also be a digital stage, which will offer space for discussion, including live streaming.

Digital Factory 2.0 focuses on:
deep digitization of production, where the company is understood as a cyber-physical system controlled by artificial intelligence
intelligent work with internal and external data
cooperation between employees and artificial intelligence and mutual inter-company cooperation taking place digitally
demonstration of prototypes of smart autonomous machines and devices
Together with Bossard, we will present innovations in the field of digitization and automation of production and warehouse management, using Smart Factory Logistics, intelligent logistics systems SmartBin Cloud and SmartLable Cloud - fully automatic weighing technologies, taking logistics processes to a completely different level, all in the spirit of IIoT and Industry 4.0 and Smart Factory Assembly, which uses an interactive workstation to guide the operator through the entire assembly process to ensure a more efficient production result.

Come and visit us from 8 - 12 November. 2021 in pavilion F at stand no. 105 (here map of the area and details of the entrance) and let's talk about the possibilities of cooperation.
Want to reserve an appointment with our sales engineers?
Tomáš Pechal - Regional Sales Manager (CZ)
Karel Cerny - Technical Sales Engineer (CZ)
Martin Cierny - Technical Sales Engineer (SK)
We look forward to meeting you there.